Alan Prefabricated Restroom Buildings
CALL BRET ANDRUS OR BILL ANDRUS FOR A FREE QUOTE ! TEL:

310.538.0333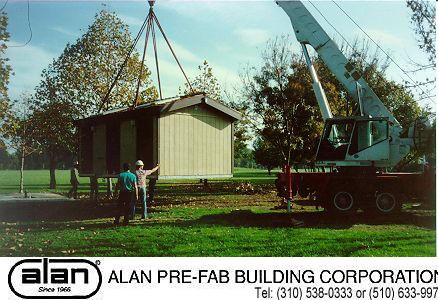 QUICKLY DELIVERED FULLY ASSEMBLED (no on-site constr.)
WATER, WASTE AND ELECTRICAL LINES STUBBED OUT FOR EASY CONNECTION.
RELOCATBLE OR PERMANENTLY INSTALLED ON CONCRETE
TRANSPORTABLE OVER LONG DISTANCES
SUITABLE FOR INSIDE OR OUTSIDE USE
ALSO AVAILABLE AS 'NO FLOOR' UNITS USING SLAB AS FLOOR FOR ADA COMPLIANCE
CALIF. STATE HCD AND ADA APPROVED, WHEN REQUIRED.
ALAN BUILDING RESTROOMS ARE CONSTRUCTED JUST LIKE OUR SKIDMOUNTED PORTABLE OFFICES, BUT WITH COMMERCIAL GRADE PLUMBING. COPPER SUPPLY LINES, ABS OR CAST IRON WASTE LINES. VITREOUS CHINA FIXTURES. A STANDARD ADA COMPLIANT RESTROOM WILL BE ABOUT 8'X8'. IT WILL HAVE 1 TOILET, 1 LAVATORY AND ONE POINT OF USE WATER HEATER. ALL FIXTURES ARE LOW CONSUMPTION TYPE. ACCESSORIES INCLUDE GRAB BARS, DOUBLE ROLL TP HOLDER AND WALL MOUNTED MIRROR, EXHAUST FAN, PLUS ADA SIGNAGE AS REQUIRED. IF DESIRED, 'NO FLOOR' TYPE BUILDINGS ARE USED TO ELIMINATE WHEELCHAIR RAMPS AND HANDRAILS. IN THAT CASE, WE USE WALL HUNG TOILETS WITH FLUSHOMETER VALVES.
Full range of standard sizes to fit your needs: 8x8(Single Occupancy), 8X16(Mens/Womens),12X24(Multi Stall Mens/Womens),10X40(Multiple Fixture Mens or Womens)
OPTIONS: full height FRP walls, coved linoleum flooring, floor drains, aDA shower stalls (requires extra floor framing), metal or formica stall partitions, high abuse fixtures (stainless steel), motion sensor valves.
The Low Cost Solution To your Space Problems